No Hunger | Picture Book List For United Nations Sustainable Development Goal #2
Picture books are a great entry point to many difficult conversations with our kids. Read on for more about this creative project to help kids connect with and understand the global social and environmental justice goals as defined by the United Nations Sustainable Development Goals in an age-appropriate way
This picture book list is part of a series of picture book lists that align with the United Nations Sustainable Development Goals. We've created a picture book list for each of the 17 United Nations Sustainable Development Goals as well as a FREE coloring poster to track progress and explore the United Nations Sustainable Development Goals with kids.
Learn More & Download The Free Coloring Poster
To learn more about the FREE coloring poster and see all 17 picture book lists, head to the United Nations Sustainable Development Goals Coloring Poster and Picture Book List homepage. Alternatively, simply sign up for our email list below and receive a link to download the FREE coloring poster.
What Are The United Nations Sustainable Development Goals?
In 2015, the United Nations adopted 17 Sustainable Development Goals (SDGs), a collective framework for peace and prosperity for people and the planet, now and into the future. The Sustainable Development Goals have broad intentions to end poverty and other deprivations while recognizing the need to simultaneously improve health and education, reduce inequality, spur economic growth, and tackle climate change.
No Hunger | United Nations Sustainable Development Goal #2
Through the second SDG, the United Nations seeks to end hunger, achieve food security, improve nutrition, and promote sustainable agriculture. Through targets like increased agricultural production, greater access to food, and assistance to better manage small-scale farms, the United Nations hopes to end malnutrition and lack of access to food for millions of people around the world who struggle with food insecurity each day.
Videos To Understand the Global Goals
To accompany the picture book list, these videos are great introductions to the United Nations Sustainable Development Goals (also called the Global Goals) for students in Primary and Secondary Schools.
Understand Goal 1: No Hunger (Primary)
Understand Goal 1: No Poverty (Secondary)
A Note On Buying and Borrowing Books
We've included affiliate links to each of the books below. If you purchase through one of these links, Raising Global Kidizens earns a very small commission that has no impact on your purchase price.
If you can find the books from your local library, from a friend, at an independent bookstore, or through a used book shop, those sources are ideal. Using the library is zero waste, saves money, and saves space in your home because you can read all the books without storing all the books on your bookshelves. If you're not sure of the best way to use your local library, check out these tips to make the most of your local library. With a little exposure, your kids will learn to LOVE the library!
If you prefer to listen to audiobooks, we recommend using Libro.fm, our favorite audiobook app. We've tried several audiobook apps and love that Libro.fm supports independent bookstores and offers a great user experience.
Picture Books About Hunger
I've compiled a list of books that touch on hunger and food insecurity. The stories normalize and celebrate the work of soup kitchens and food pantries. Other books on this list remind readers that close friends and others in our community may struggle with having enough food even if they don't appear to be in need. We each have the power to help those close to us gain access to wholesome and nutritious food.
Maddi's Fridge by Lois Brandt
Two girls are friends at school. One little girl, Sofia, has plenty of food at home. Upon visiting her friend Maddi's house, she realizes Maddi has hardly any food.
Maddi makes her promise not to tell anyone that they don't have food to eat. Sofia really wants to help but also doesn't want to break her promise.
As you can imagine, Sofia finds a way to help her friend. This story is not sad or heavy but reminds children that one's family life may not be what it seems and that more people go without food than we might realize.
Ages 4-8 | Pages 32
Saturday at the Food Pantry by Diane O'Neill
Molly and her mom don't always have enough food, so one Saturday they visit their local food pantry. Molly's happy to get food to eat until she sees her classmate Caitlin, who's embarrassed to be at the food pantry. Can Molly help Caitlin realize that everyone needs help sometimes?
Ages 4-8 | Pages 32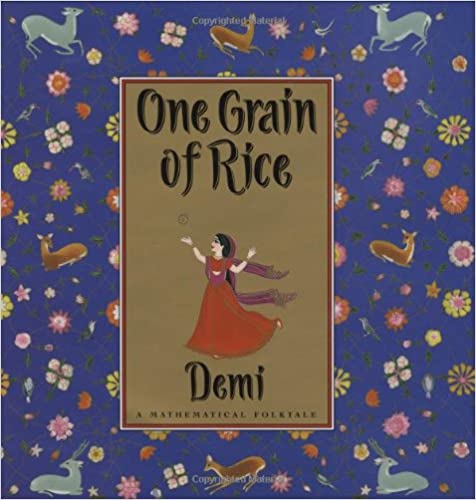 One Grain of Rice: A Mathematical Folktale by Demi
Despite a famine, a raja in India kept nearly all the rice from the people. One young girl convinced the raja to share a portion of the rice with the people. Starting with just one grain of rice and doubling each day, she quickly gained enough rice for the people to eat. It's not only a lesson in math but also the impact an unfair leader can have on hunger in a country.
Ages 4-8 | Pages 40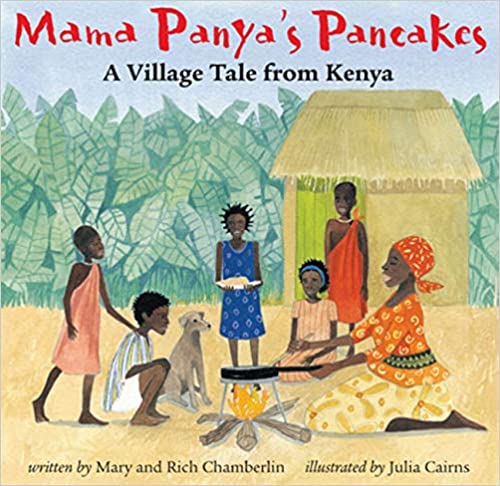 Mama Panya's Pancakes: A Village Tale From Kenya by Mary and Rich Chamberlain
A mother in Kenya takes her little boy to the market to buy ingredients to make pancakes. Along the way, the little boy invites many family and friends to come share pancakes with them. His mother, however, becomes concerned because they do not have much money and she's afraid she won't be able to afford enough ingredients to feed all the people he invited.
When everyone arrives, however, they all bring something to share and there is plenty of food for everyone. This story provides a reminder to children that we are often much better collectively when we share the things we have.
Ages 4-8 | Pages 40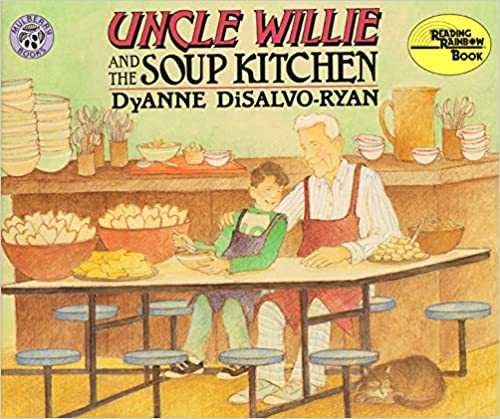 Uncle Willie And The Soup Kitchen by DyAnne DiSalvo-Ryan
A little boy's uncle volunteers at the soup kitchen and offers to bring the boy along one day. The little boy learns so much about the soup kitchen during his visit. He discovers how it receives food, how they prepare it all, and more importantly, the stories of so many regular people who receive their meals from the soup kitchen each day.
Ages 4-8 | Pages 32
The Good Garden: How One Family Went From Hunger To Having Enough by Katie Smith Milway
One family living in a small village does not have enough food or money, so the father must leave to go find work. The family gets much of their food from a small piece of land next to their home.
At school, a new teacher arrives and teaches the older daughter about composting and other practices to increase the health of their soil and the output of their land. These new practices greatly increase the health and wealth of the garden, even giving them enough food to sell some extra items at the market.
The money from the extra food is enough that her father no longer has to leave for work, and they get plenty of food from their own garden to feed their family. A small change in teaching the local villagers more sustainable farming methods transform the prosperity of the family.
Ages 8-12 | Pages 32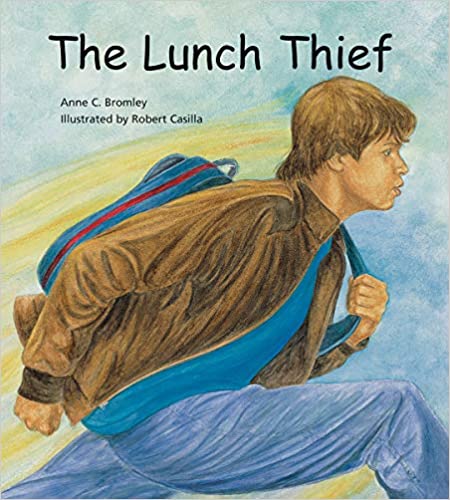 The Lunch Thief by Anne C. Bromley
When Rafael catches the new kid stealing lunches, he decides to listen to his mom's advice and use his words. He learns more about this boy who steals his lunch and why he steals the lunch. The experience makes him wonder how he can help, or even befriend, this boy.
Ages 9-12 | Pages 32
Our Little Kitchen by Jillian Tamaki
This is such a fun and fast-paced book about the chaotic yet productive work that happens at a food kitchen to prepare for serving a meal. Everyone is moving in so many different directions and so quickly, making the most of whatever food is available to them. And all are happy to be together when visitors arrive to eat.
Ages 4-8 | Pages 48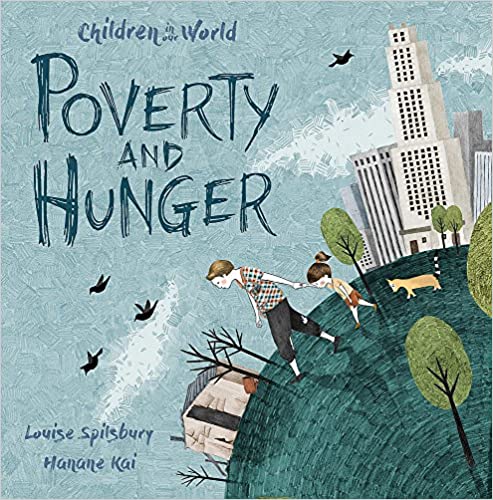 Poverty and Hunger (Children In Our World) by Louise Spilsbury
This a non-fiction book that discusses many reasons why families experience poverty and hunger as well as how it affects their lives. It further explains for children what services and institutions can help as well as how they can help individually. It is an honest book that might be better suited for older children who are ready to discuss and understand the realities of poverty and hunger.
Ages 5-8 | Pages 32
I'd love to hear about any other books you like or appreciate that discuss the challenging topics related to hunger. If you know of any, leave them in the comments so we can check them out!
Download a Printable Book List and Library List
We've created a printable PDF of this book list that you can have as a resource for later. It includes images of each of the book covers as well as a single page of titles and authors to take to the library if you prefer to check out books while you visit. To download the list, drop your email address in the sign-up form below. After confirming your email address, you'll receive the printable booklist in just a few minutes.
And if you have not done so already, be sure to check out the other booklists aligned with the United Nations Sustainable Development Goals and print out the FREE Coloring Poster!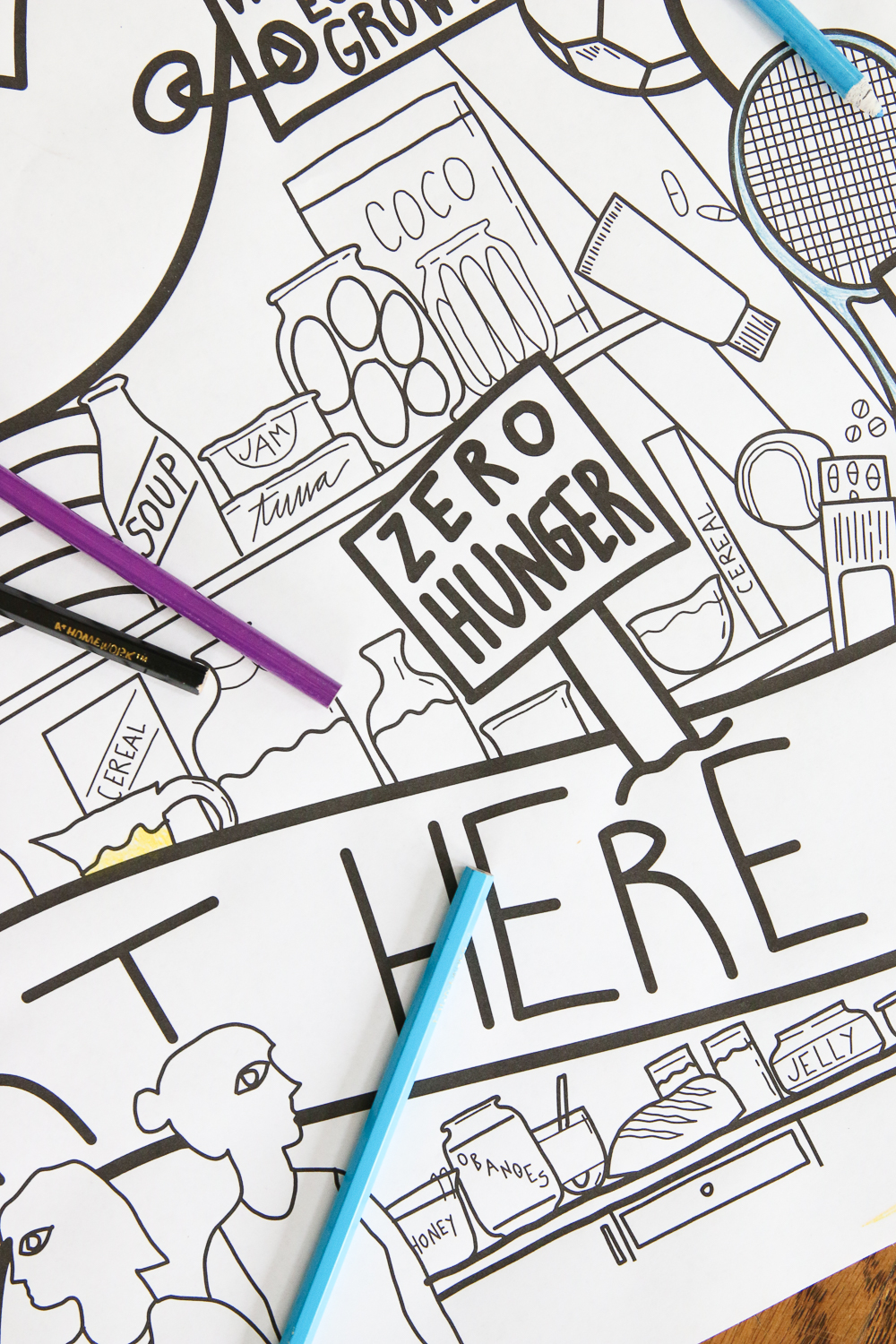 About The Author
Jen Panaro
Jen Panaro, a co-founder of Raising Global Kidizens, is a self-proclaimed composting nerd and an advocate for sustainable living for modern families. She's also a serial library book borrower and a messy gardener.
As a mom to two boys, she is passionate about helping families be more responsible stewards to their communities and the planet. She also owns Honestly Modern, an online space focused on eco-friendly living for modern families.