Life on Land | United Nations Sustainable Development Goal #15
Picture books are a great entry point to many difficult conversations with our kids. Read on for more about this creative project to help kids connect with and understand the global social and environmental justice goals as defined by the United Nations Sustainable Development Goals in an age-appropriate way.
This picture book list is part of a series of picture book lists that align with the United Nations Sustainable Development Goals. We've created a picture book list for each of the 17 United Nations Sustainable Development Goals as well as a FREE coloring poster to track progress and explore the United Nations Sustainable Development Goals with kids.
Learn More & Download The Free Coloring Poster
To learn more about the FREE coloring poster and see all 17 picture book lists, head to the United Nations Sustainable Development Goals Coloring Poster and Picture Book List homepage. Alternatively, simply sign up for our email list below and receive a link to download the FREE coloring poster.
What Are The United Nations Sustainable Development Goals?
In 2015, the United Nations adopted 17 Sustainable Development Goals (SDGs), a collective framework for peace and prosperity for people and the planet, now and into the future. The Sustainable Development Goals have broad intentions to end poverty and other deprivations while recognizing the need to simultaneously improve health and education, reduce inequality, spur economic growth, and tackle climate change.
Life On Land | United Nations Sustainable Development Goal #15
This United Nations sustainable development goal is quite broad. It seeks to protect, restore and promote sustainable use of terrestrial ecosystems, sustainably manage forests, combat desertification, and halt and reverse land degradation and halt biodiversity loss. There are many facets of this goal that include how animals, plants, and all living organisms are surviving and thriving on our planet.
Videos To Understand the Global Goals
To accompany the picture book list, these videos are great introductions to the United Nations Sustainable Development Goals (also called the Global Goals) for students in Primary and Secondary Schools.
Understand Goal 15: Life On Land (Primary)
Understand Goal 15: Life On Land (Secondary)
A Note On Buying and Borrowing Books
We've included affiliate links to each of the books below. If you purchase through one of these links, Raising Global Kidizens earns a very small commission that has no impact on your purchase price.
If you can find the books from your local library, from a friend, at an independent bookstore, or through a used book shop, those sources are ideal. Using the library is zero waste, saves money, and saves space in your home because you can read all the books without storing all the books on your bookshelves. If you're not sure of the best way to use your local library, check out these tips to make the most of your local library. With a little exposure, your kids will learn to LOVE the library!
If you prefer to listen to audiobooks, we recommend using Libro.fm, our favorite audiobook app. We've tried several audiobook apps and love that Libro.fm supports independent bookstores and offers a great user experience.
Picture Books About Life On Land
The following books highlight some of the amazing plants and animals that live on Planet Earth. As readers gain exposure to and learn more about life on land, they hopefully gain a stronger appreciation for living things and develop a desire to protect them.
The Beeman by Laurie Krebs and Valeria Cis
Written as a poem, a little boy shares all about his grandfather, who is known in town as the Beeman, The story shares the things the boy and his grandfather do together to care for the beehives.
Healthy land relies on many components, one of which is a healthy and flourishing bee population that pollinates many of our plants. My boys and I really loved this book a lot, and my older son asked to read it many times.
Ages 5 – 8 yrs | Pages 40
The Tree Lady: The True Story of How One Tree-Loving Woman Changed a City Forever by H. Joseph Hopkins
A leader and change-maker in so many ways, Kate Sessions grew up loving nature and the trees around her. When she moved to San Diego, she found a dry dessert as well as a handful of trees surviving quite well in the arid conditions. She wanted to change the landscape of San Diego, so she quit her teaching job to become a gardener and began planting trees around the city. Her efforts led to many city parks, the most notable of which is the current Balboa Park that spans across a large part of the city. This book reminds us that we can all be advocates for a more sustainable plan for taking care of our land wherever we live.
Ages 5 – 10 yrs | Pages 32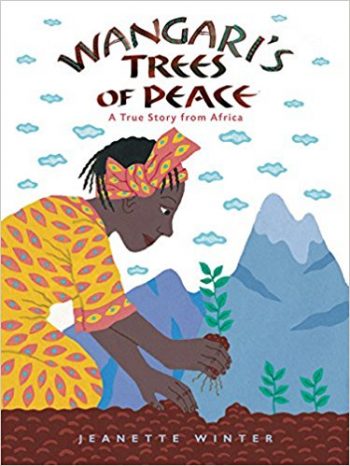 Wangari's Trees of Peace by Jeanette Winter
After growing up in Kenya and attending school in the United States, this woman returns to her hometown in Kenya to realize that nearly all of the trees and lush vegetation she knew as a child was gone. The book tells the story of her mission to bring trees back to the barren Kenyan landscape and how her efforts spread across the country to revive the tree landscape in many parts of the country.
Ages 4 – 7 yrs | Pages 32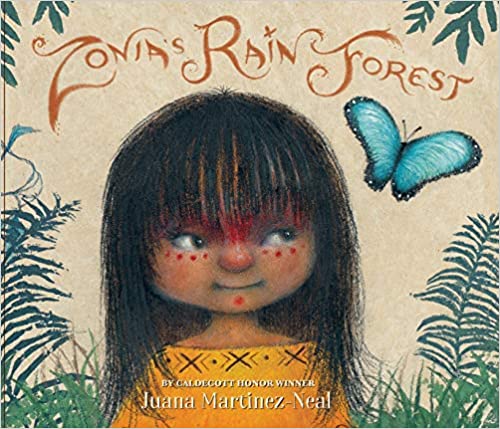 Zonia's Rainforest by Juana Martinez-Neal
Zonia lives in the Peruvian Amazon and is Ashaninka, the largest Indigenous group living in that area. In the story, she spends the day dancing through the rainforest and engaging with all of her animal friends. As the story closes, she discovers a scray area being deforested for profit. She speaks to her mom to understand what is going on, and they talk about how important is for each of them to stand up for their home and protect the land and animals in the Amazon.
Ages 4 – 8 yrs | Pages 40
One Red Apple by Harriet Ziefert
This story celebrates how an apple grows from a seed, becomes food for humans, and then continues through the path of life as an apple core for birds, seeds to float with the wind, and ultimately a new seed for a new tree to grow more apples. This story is simply written and perfect for younger children just starting to understand the circle of life and how we are intertwined with our food, the animals, and all life on Earth.
Ages 4 – 7 yrs | Pages 32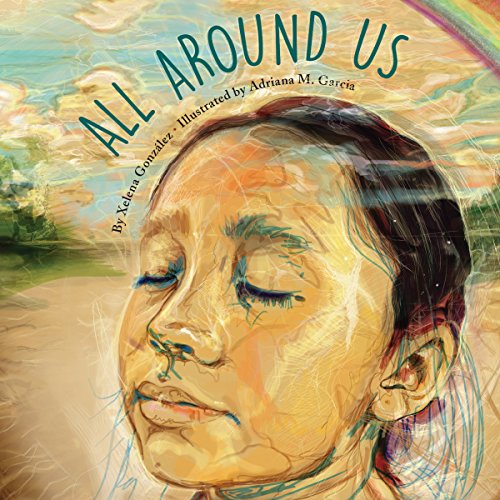 All Around Us by Xelena Gonzalez
Through family stories, a little girl reminds us that we are one with the Earth. Our world is full of circles and cycles that should reinforce the continuity of life we need to support with our habits and lifestyles. The illustrations are a bit abstract but I really liked the message and thought the illustrations supported the story well.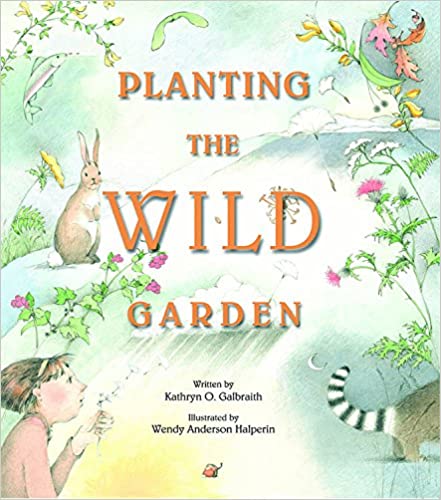 Planting The Wild Garden by Kathryn O Galbraith
A farmer and her son plant seeds in the ground. The story follows the journey of this and many other seeds through the four seasons, showing how nature will take care of its own regeneration and reproduction when we allow it to.
Ages 4 – 8 yrs | Pages 32
Secrets of the Garden by Kathleen Weidner Zoehfeld
Alice's family plants a vegetable garden each spring, and this budding naturalist reports all she sees about how the plants grow, what insects come to eat the plants, and what birds and animals come to eat the insects. It's the food chain, right in her own backyard!
Ages 5 – 9 yrs | Pages 32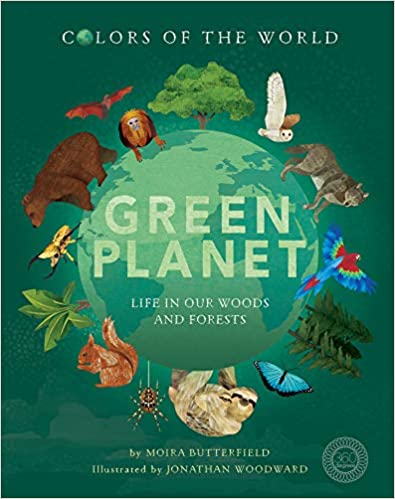 Green Planet: Life In Our Woods and Forests by Moira Butterfield
How much do our children really know about the forests of the world? This book teaches children about the different types of forests on the planet, the different animals that live in each forest, and how those animals make their homes.
The book ends by offering children some ways they can help protect our forests and the animals that share them with us. This is a longer, encyclopedia-type book. We read it together over the course of a few days mixed in with some other picture books.
Ages 6 – 9 yrs | Pages 32
One Day On Our Blue Planet: In The Rainforest by Ella Bailey
Follow a young monkey as he explores and admires his habitat in the rainforest. Readers see and hear about so many amazing creatures that make their homes in the rainforest. This book is part of a One Day On Our Blue Planet series that also includes an edition "In The Savannah" that follows a young lion cub on a similar journey of his habitat.
Ages 3 – 7 yrs | Pages 32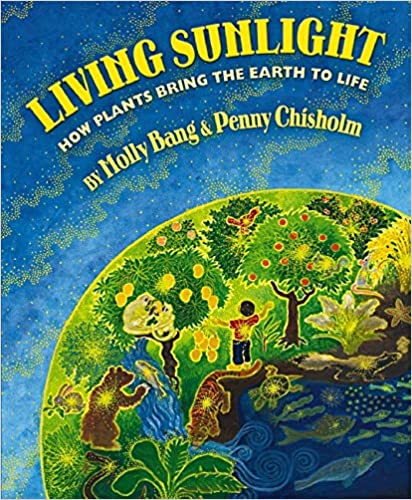 Living Sunlight: How Plants Bring Earth To Life by Molly Bang and Penny Chisholm
Plants are the foundation of life on Earth because they capture the sun's energy and make it accessible to all other living things. Without plants, humans would have no food and no oxygen to breathe. This book provides an introduction to how plants use photosynthesis to turn the energy from the sun into life on our planet.
Ages 4 – 8 yrs | Pages 40
Do you have any other favorite picture books about life on land? You might like this list of picture books about bees, bugs, butterflies, and worms too! Share any other recommendations in the comments.
Download a Printable Book List and Library List
We've created a printable PDF of this book list that you can have as a resource for later. It includes images of each of the book covers as well as a single page of titles and authors to take to the library if you prefer to check out books while you visit. To download the list, drop your email address in the sign-up form below. After confirming your email address, you'll receive the printable booklist in just a few minutes.
And if you have not done so already, be sure to check out the other booklists aligned with the United Nations Sustainable Development Goals and print out the FREE Coloring Poster!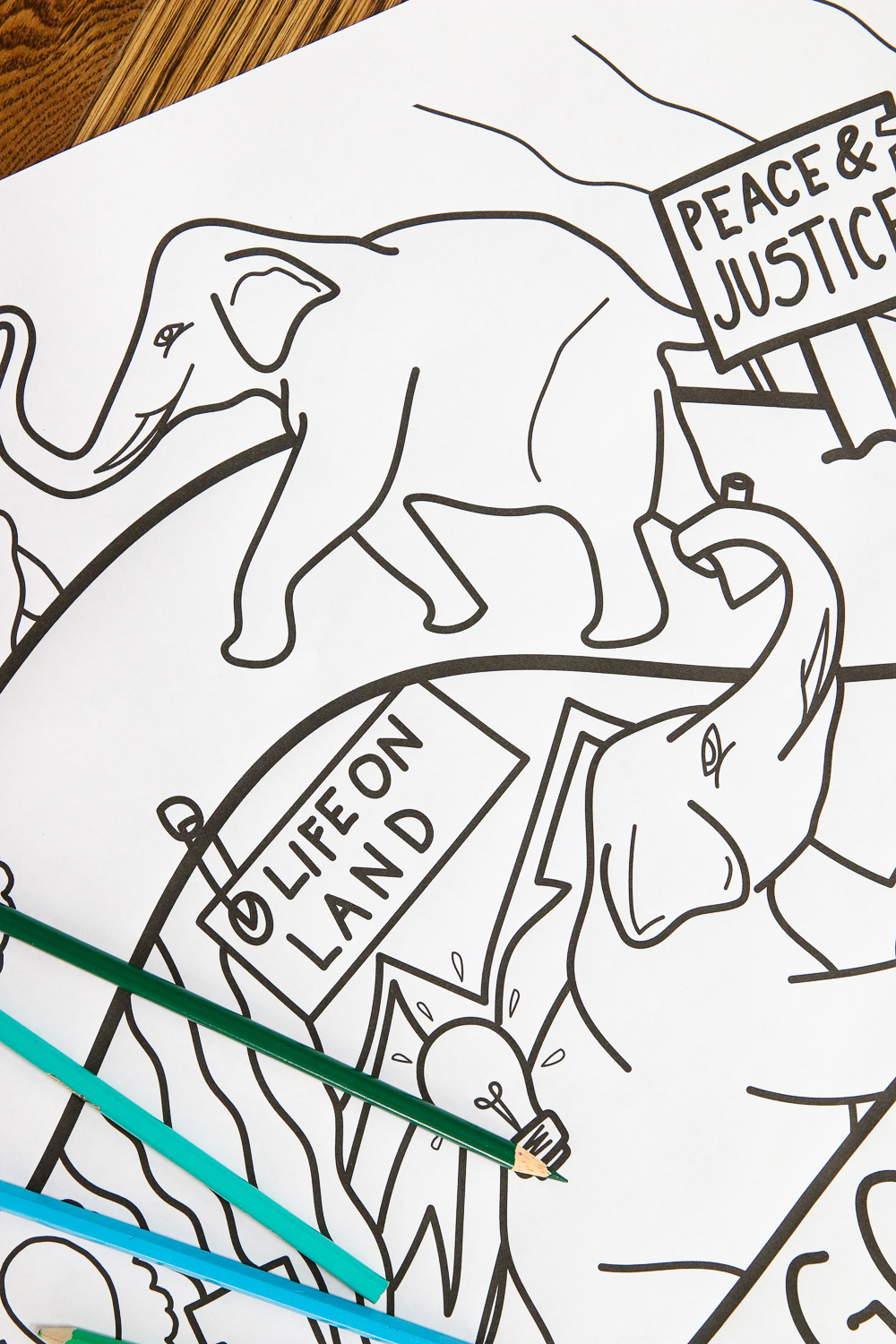 About The Author
Jen Panaro
Jen Panaro, a co-founder of Raising Global Kidizens, is a self-proclaimed composting nerd and an advocate for sustainable living for modern families. She's also a serial library book borrower and a messy gardener.
As a mom to two boys, she is passionate about helping families be more responsible stewards to their communities and the planet. She also owns Honestly Modern, an online space focused on eco-friendly living for modern families.