Life Below Water | Picture Book List For United Nations Sustainable Development Goal #14
Picture books are a great entry point to many difficult conversations with our kids. Read on for more about this creative project to help kids connect with and understand the global social and environmental justice goals as defined by the United Nations Sustainable Development Goals in an age-appropriate way.
This picture book list is part of a series of picture book lists that align with the United Nations Sustainable Development Goals. We've created a picture book list for each of the 17 United Nations Sustainable Development Goals as well as a FREE coloring poster to track progress and explore the United Nations Sustainable Development Goals with kids.
Learn More & Download The Free Coloring Poster
To learn more about the FREE coloring poster and see all 17 picture book lists, head to the United Nations Sustainable Development Goals Coloring Poster and Picture Book List homepage. Alternatively, simply sign up for our email list below and receive a link to download the FREE coloring poster.
What Are The United Nations Sustainable Development Goals?
In 2015, the United Nations adopted 17 Sustainable Development Goals (SDGs), a collective framework for peace and prosperity for people and the planet, now and into the future. The Sustainable Development Goals have broad intentions to end poverty and other deprivations while recognizing the need to simultaneously improve health and education, reduce inequality, spur economic growth, and tackle climate change.
Life Below Water | United Nations Sustainable Development Goal #14
Healthy oceans are vital to the overall health of our planet. This United Nations SDG seeks to conserve and sustainably use the oceans, seas and marine resources for sustainable development. We need to protect the animals and life living below water and ensure the water is clean.
Videos To Understand the Global Goals
To accompany the picture book list, these videos are great introductions to the United Nations Sustainable Development Goals (also called the Global Goals) for students in Primary and Secondary Schools.
Understand Goal 14: Life Below Water (Primary)
Understand Goal 14: Life Below Water (Secondary)
A Note On Buying and Borrowing Books
We've included affiliate links to each of the books below. If you purchase through one of these links, Raising Global Kidizens earns a very small commission that has no impact on your purchase price.
If you can find the books from your local library, from a friend, at an independent bookstore, or through a used book shop, those sources are ideal. Using the library is zero waste, saves money, and saves space in your home because you can read all the books without storing all the books on your bookshelves. If you're not sure of the best way to use your local library, check out these tips to make the most of your local library. With a little exposure, your kids will learn to LOVE the library!
If you prefer to listen to audiobooks, we recommend using Libro.fm, our favorite audiobook app. We've tried several audiobook apps and love that Libro.fm supports independent bookstores and offers a great user experience.
Picture Books About Life Below Water
The following books celebrate the mysteries of our oceans. They highlight how important our oceans are, how we can better care for them, and many of the amazing creatures that call our oceans and waterways home.
The Secret Of Black Rock by Joe Todd-Stanton
Too often, we often don't appreciate nature when we can't understand it. Such is the case when a seemingly large rock formation routinely creates apparent danger for local fishermen. The town residents decide to destroy the rock, but a little girl saves the rock after discovering how much life it supports just below the surface of the water. The book encourages children to respect our environment and look beyond what something might initially appear to be. First impressions aren't always true.
Ages 3-7 | Pages 40
Down, Down, Down: A Journey To The Bottom of the Sea by Steve Jenkins
This non-fiction picture book takes the reader through the sea starting from the surface and gradually moving deeper into the ocean. With each page, the readers learn about the creatures that live in that part of the ocean and how they rely on each other. It's a really interesting book, but maybe a little complicated for younger readers. This is best suited for elementary-aged students and older.
Ages 4-7 | Pages 40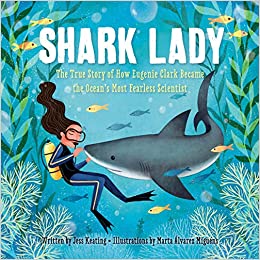 Shark Lady: The True Story of How Eugenie Clark Became the Ocean's Most Fearless Scientist by Jess Keating
Eugenie Clark fell in love with sharks from the first moment she saw them at the aquarium. She couldn't imagine anything more exciting than studying these graceful creatures. But Eugenie quickly discovered that many people believed sharks to be ugly and scary―and they didn't think women should be scientists.
Determined to prove them wrong, Eugenie devoted her life to learning about sharks. After earning several college degrees and making countless discoveries, Eugenie wrote herself into the history of science, earning the nickname "Shark Lady." Through her accomplishments, she taught the world that sharks were to be admired rather than feared and that women can do anything they set their minds to, and this book shares all of that with readers.
Ages 4-8 | Pages 40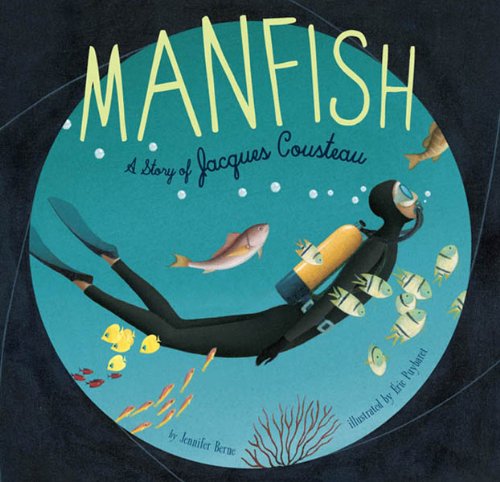 Manfish: A Story of Jacques Cousteau by Jennifer Berne
Supported by bright and colorful illustrations, readers learn the story of a world-famous sea explorer and oceanographer who fell in love with the sea at an early age. The story highlights some of the wonderful and important discoveries Cousteau shared with the world that he uncovered during his dives. In order to appreciate and take care of our oceans and water, it helps to understand the beauty of what's beneath the surface, and I think this book shares that in a way children will enjoy.
Ages 6-9 | Pages 40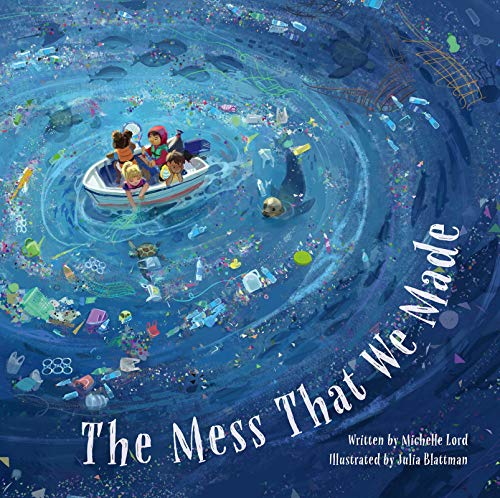 The Mess That We Made by Michelle Lord
This book explores the environmental impact of trash and plastic on the ocean and marine life, and it inspires kids to do their part to combat pollution. The first half of the book portrays the growing magnitude of the issue, and the second half rallies children and adults to make the necessary changes to save our oceans.
Ages 5-7 | Pages 32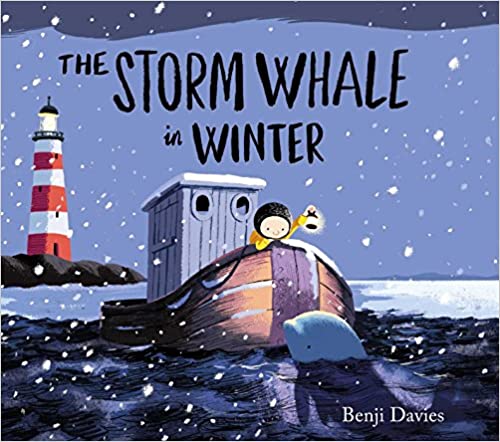 The Storm Whale in Winter by Benji Davies
Although the book is written to focus on a special relationship between a son and his father, it also highlights some of the special creatures who live in the cold waters near the young boy's home. In a time of need, the heartfelt whales help the young boy to safety and reinforce the important co-dependence of humans and animals who live in the ocean.
Ages 3-7 | Pages 40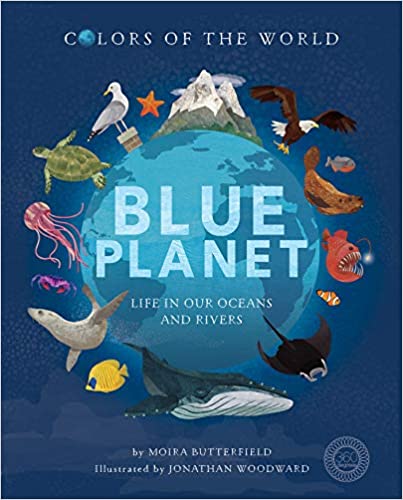 Blue Planet: Life In Our Oceans and Rivers by Moira Butterfield
Water covers most of our planet and is imperative to our world. This book highlights the many different ecosystems that thrive in the water around the world and the animals that live in each of them. It also discusses why water is important, how humans use water, and how we can protect the water to keep it clean and safe. My little guy loves this book as well as its sister book Green Planet: Life In Our Woods and Forests.
Ages 6-9 | Pages 32
One Day On Our Blue Planet in the Antarctic by Ella Bailey
Follow a baby penguin as he travels through his environment and admires all the other animals that live above and below the ice that is the foundation of his habitat. The illustrations and story teach children about wildlife in this remote part of the world and help them come to appreciate its importance. This book is part of a "One Day On Our Planet" series that also includes One Day In The Ocean centered on the young dolphin.
Ages 3-7 | Pages 32
Save The Sharks by Bethany Stahl
Save the Sharks tells the story of a tired shark, Frank, whose friends start disappearing! He discovers that environmental changes, overfishing, and pollution are contributing to their disappearance. With the help of a mermaid, Kaleisha, and a diver, Liam, Frank's heart fills with joy as they work together to Save the Sharks!
Ages 3-8 | Pages 41
Ocean Sunlight: How Tiny Plants Feed The Seas by Molly Bang
From tiny aquatic plants to the biggest whale or fish, readers experience a moving, living picture of the miraculous balance sustaining each life cycle and food chain deep within our wondrous oceans. On land or in the deep blue sea, we are all connected–and we are all a part of a grand living landscape.
Ages 4-8 | Pages 48
Do you have any other picture books about life under water that should be added to this list? If so, leave them in the comments!
Download a Printable Book List and Library List
We've created a printable PDF of this book list that you can have as a resource for later. It includes images of each of the book covers as well as a single page of titles and authors to take to the library if you prefer to check out books while you visit. To download the list, drop your email address in the sign-up form below. After confirming your email address, you'll receive the printable booklist in just a few minutes.
And if you have not done so already, be sure to check out the other booklists aligned with the United Nations Sustainable Development Goals and print out the FREE Coloring Poster!

About The Author
Jen Panaro
Jen Panaro, a co-founder of Raising Global Kidizens, is a self-proclaimed composting nerd and an advocate for sustainable living for modern families. She's also a serial library book borrower and a messy gardener.
As a mom to two boys, she is passionate about helping families be more responsible stewards to their communities and the planet. She also owns Honestly Modern, an online space focused on eco-friendly living for modern families.