7 Outdoor Education Activities For Kids
Nature activities for kids offer so many educational opportunities. Here are 7 outdoor educational activities that get kids away from screens and tuned into nature. These activities incorporate science, engineering, art, and language education in creative, multi-sensory ways. Your children won't want to come back inside… unless it's time for lunch, of course.
Nature provides amazing opportunities for intellectual stimulation, exploration, and learning. Outdoor learning can happen in the woods, on a hike, in a park, or even in your own front yard. Kids can learn through nature no matter how fancy the location.
Below we've included several outdoor educational activities that will delight kids of all ages. You can adjust the ideas to be outdoor preschool activities as well as elementary classroom activities. Even middle school and high school students can write nature-inspired stories, create nature art projects, and try mindfulness activities in a serene sit spot.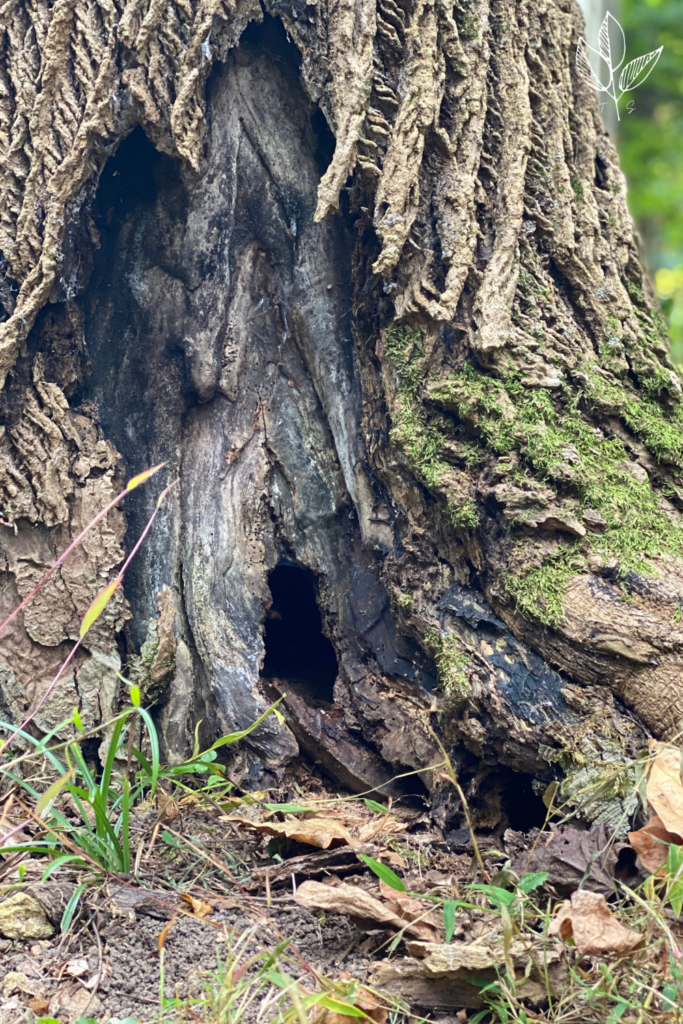 Create a Nature Inspired Story
The next time you are outside with your child, point out a nest, a crack in the sidewalk or a hole in a tree and ask them to tell you what animals could possibly live there. Once they've answered your question, prompt them with more questions to expand their imagination:
How did the animal find their home?
Where do they get their food?
Who comes to visit them?
What do they do while they're awake?
Depending on the interest and age level of your child, you can guide them towards creating a more factual or purely imaginative narrative that can be simply dictated to you, drawn out in pictures or written down. It truly does not matter what they create; the important thing is that they are using nature to inspire their imagination.
The picture above is of a tree that grows in the woods behind my childhood home. On one of our most recent visits to "Grandma's house" I pointed out this beauty to my 8 year old and asked her to come up with a story about who lived there. This is what she wrote: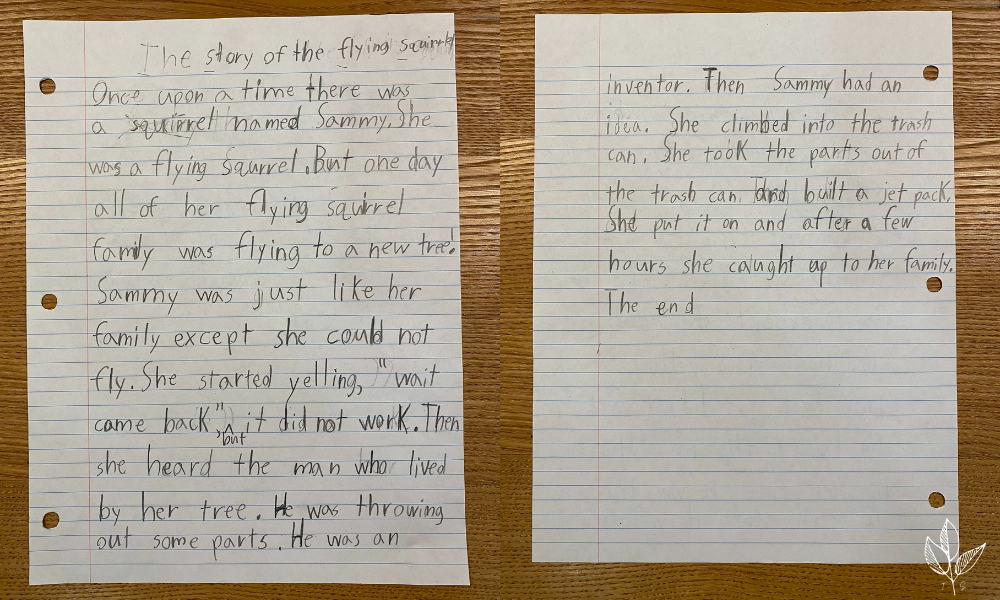 Apparently, the tree we chose to talk about was the "new home" for the flying squirrel family! As you can plainly see, it doesn't have to be an eloquently written or elaborate story. What is important is that you pick something that they'll pass by more than once, allowing them to make a connection with the particular place and pay attention to changes that occur over time. They may even decide to write more than one story!
Do A Nature Scavenger Hunt
An outdoor scavenger hunt for kids is a great way to get outdoors and explore your neighborhood or community with a particularly focused eye for examining what lives around you. Depending on the ages of your scavengers, you can make the hunt as general or as detailed as you'd like!
Here are two examples of lists you can create, based on the season and what's outside your door:
Preschool to Early Elementary Learners:
Tree bark
Green Leaf
Insect
Animal with fur
Flower
Bird's nest
Round rock
2 different birds
Animal tracks
Mud puddle
Older Elementary to Middle School Learners
Maple tree bark
Pine needle
Ant
Small mammal
Wildflower
Bird's nest
Rock with rough edges
2 different song birds
Animal tracks
Mud puddle
As you can see, the level of complexity increases with the age of the learners. Tailor your list to the current season and the outdoor space you are exploring. Feel free to let your older kids use field guides or nature apps to identify the names of different species. We really like the free app Seek by iNaturalist. As an added bonus, this app creates monthly challenges to inspire your kids to search for more species!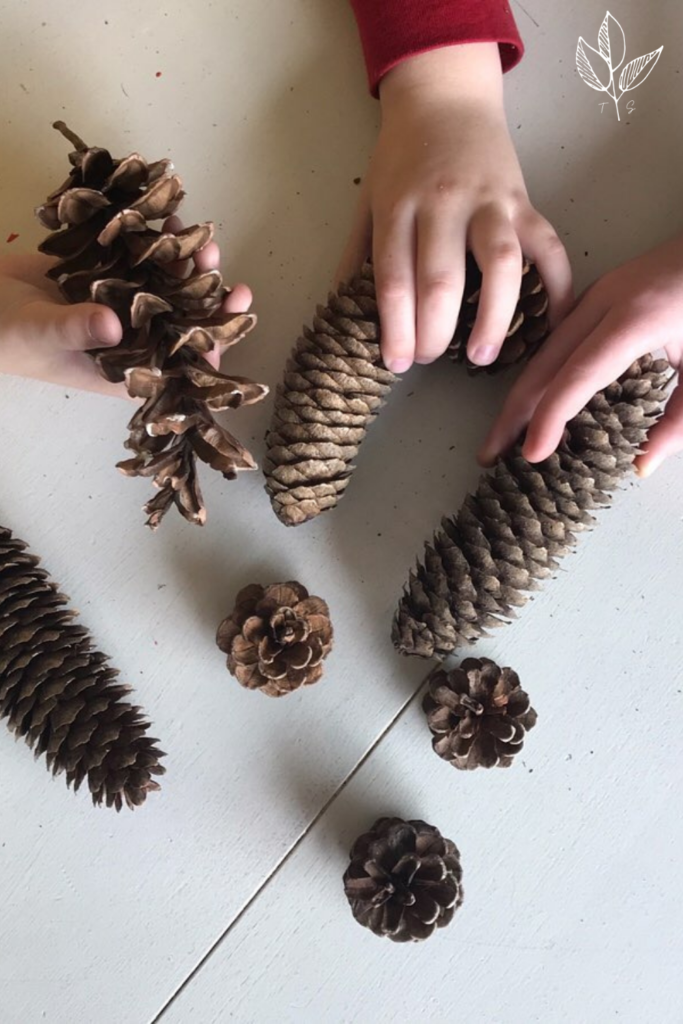 Start a Nature Collection
I cannot speak for every young child, but for all of the ones that I have had the pleasure of spending time with, they have all had one thing in common: they like to collect stuff.
And by stuff, I mean practically anything: rocks, stickers, money (who doesn't like that), figurines – if they can fit it in their pockets – they want to accumulate as many as possible! Capitalize on this amassing behavior and take them outside to collect whatever natural objects they're drawn too. Some examples of collections my kids have made:
Pine cones
Sticks
Rocks
Leaves
Flower petals
Once they've gotten a handful of their chosen nature item, have them organize them first by size, then by color and then by shape. If you have older kids, you can even use nature identification apps to further classify the items that they have collected. (Note -this might be tricky to do with rocks or sticks, FYI!)
The point of this activity is to allow your learners to see the diversity of life that exists right in their neighborhood or local park. For younger learners, this is a wonderful practice in identifying similarities and differences in items, as well as learning how to sort by specific characteristics. For older learners, it is a gateway to discovering and appreciating the other species that inhabit their area, further supporting the interconnectedness of their human lives with other living beings.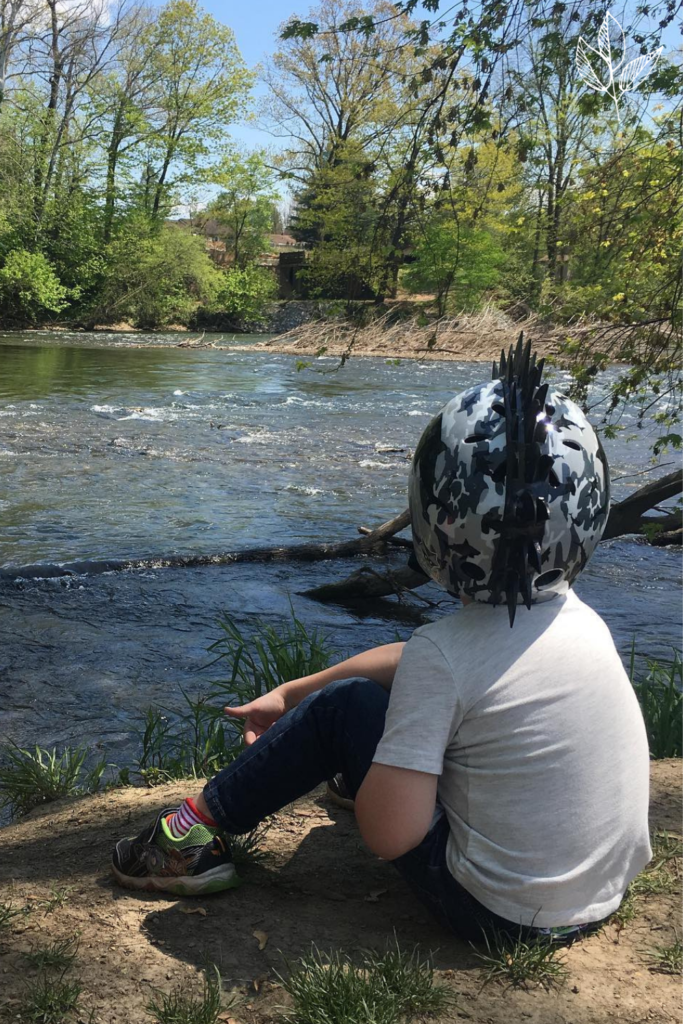 Find a Sit Spot
I originally read about this practice in the book, "How to Raise a Wild Child" by Scott D. Sampson and immediately tried it with my kids. I'll be honest, this is probably both the easiest and hardest outdoor activity to do.
Why? It's easy because it requires absolutely nothing except for a spot to sit outside. This can be on your back porch, on a park bench, under a tree in a forest – literally anywhere as long as you and your child are outside. It's also the hardest because it requires you to sit silently and just observe. No cameras, no paper and pencils, just you and your senses taking in what's happening around you.
As parents and caregivers, we know that getting a young child to sit in silence is practically impossible. So, that's why you start with a short time goal – say 2 minutes to begin. After the time is up, ask your child to describe what they saw, what they heard, even what they smelled. Return to the same spot as often as possible, and slowly increase your silent observation time. You'll be amazed at what your children notice, as well as how different your observations are.
Once you return home, keep a log of observations with your child, noting the date and time of each outing. See if you notice any changes based on the season, time of day or the presence or absence of human activity in the space. These simple observations can lead to fantastic discussions, while also demonstrating to your child the importance of listening and watching.
Create a Nature Art Project
Take a few simple art supplies like paper and colored pencils outdoors and create a kids' nature art project based on what they observe around them. Another option is to leave the traditional art supplies at home and use natural materials to fuel your creativity. Think pebble towers, wildflower chain necklaces, and mud sculptures!
Want to combine traditional childrens' art supplies with natural materials? Why not paint some rocks to distribute around your neighborhood on your next walk? Rock painting has become quite popular in our neighborhood and our kids love hunting for the painted treasures just as much as they like hiding them! There's nothing like adding a little color to your local nature trail or playground with this creative art project.
Make an Upcycled Bird Feeder + An Outdoor Shelter Out of Branches
An upcycled bird feeder is a great way to bring nature to your own yard (without spending a dime and using things you already have at home). Kids will learn so much from creating an outdoor shelter from sticks and branches too.
To learn how to make a simple bird feeder out of materials in your recycling bin, as well as construct an outdoor shelter out of branches, head over to Thoughtfully Sustainable.
If you liked 7 Outdoor Education Activities for Kids, you may also like:
4 Earth Day Science Activities for Kids
35+ Great Kids Gardening Books
Simple DIY Macrame Easter Egg Bird Feeder
About The Author
Jess Purcell
Jess Purcell, a co-founder of Raising Global Kidizens, is a science educator who is dedicated to making the science of sustainability accessible to all learners. She creates sustainability science lessons and nature activities written for students of all ages to be done in the classroom or at home to foster critical thinking skills and a love of the natural world. You can find more of her work at Thoughtfully Sustainable.
Jess lives in central Pennsylvania with her husband, two kids, and two cats and can usually be found outside, working out the kinks of an experiment, upcycling trash into "treasure", hiking with her family, or attempting to read a book while being cajoled into a game of hide-and-seek.